Hey, I'm Kate.
I'm an illustrator based in Norwich, UK.
I studied illustration at Norwich University of the Arts. After graduating I have continued my work as an artist taking on commissions and working on free-lance projects.
Most of my work is hand painted using Gouache paints. I enjoy this medium because it gives a flat, matte and even finish.
My colourful series of paintings in a pocket sized Moleskine sketchbook has been very popular, you can see more of that work here
Learn More about me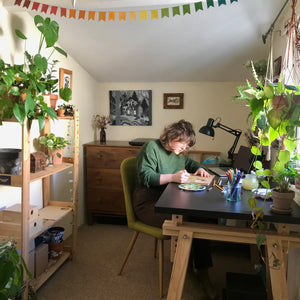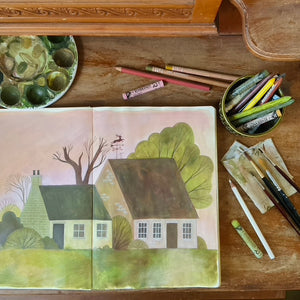 All my work starts out as a sketch, then are painted by hand.
I almost exclusively use gouache paint to make my illustrations. Though I also enjoy using other traditional mediums such as ink, pastels and watercolour.
I love playing with colour and contrast, and I tend to subconsciously stick to themes in my artwork. This means I usually have multiple sketchbooks on the go!